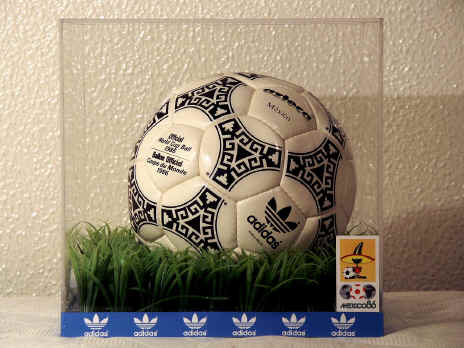 Azteca: México, 1986
The FIFA World Cup Mexico, saw the introduction of the first polyurethane coated ball which was rain-resistant. The first synthetic match ball, with good qualities on hard and wet surfaces.
The above picture was provided by Sebastiano Calì from Italy. Thanks!
The above "red letter" ball picture was provided by Jacques Barralon
The above "black letter" ball (made in France) picture was provided by Jacques Barralon
A completely new model was developed for the World Cup in Mexico. The Azteca Mexico was a hand-sewn ball, and for the first time, synthetic material, rather than leather was used to produce it. The ball consisted of an outer polyurethane wearing coat and three lower layers, which mutually complemented one another with their different "Adicron" structures. These were intended to ensure the ball's resistance, ability to retain its shape and its waterproof properties. With its never-before-achieved performance on hard ground, at high altitude, and in wet conditions, Azteca represented a massive leap forward for the game. Its elaborately decorated design was inspired by the hosting nation's native Aztec architecture and murals.