There is an incredible appetite amongst soccer fans to experience the same game they love but in different and exciting ways.
In recent years there has been a significant rise in the popularity of such sports including Beach Soccer, Teqball and Soccer Tennis. Each variation offers its players the opportunity to test their abilities away from the traditional settings and expand certain skill sets.
Soccer Golf is a relatively fresh take on the game, played by a wide range of people at a variety of levels.
But what is Soccer Golf?
What Is Soccer Golf?
Soccer Golf is a literal cross between the two sports of Soccer and Golf. As you might expect, the rules of the game are mainly identical to regular golf but there are some important differences to how it is played.
For example, players kick a soccer ball across a golf course rather than striking a golf ball and use their feet instead of a golf club. There are even large holes to match the size of their ball.
How Did Soccer Golf Begin?
The sport of Footgolf (that later became known as Soccer Golf in the US) along with its dress code and rules was devised by Dutch colleagues Bas Korsten and Michael Jansen in 2008.
Bas's brother, professional soccer player Willem Korsten, invented the game as part of a post-training routine during his playing days with Premier League side Tottenham Hotspur.
At the end of training, Willem would challenge his teammates to kick soccer balls from the practice pitch and back to the changing rooms in as few kicks as possible.
Korsten and Jansen decided to officially launch their concept as a new sport and quickly introduced the idea of utilising a regulation golf course as its standard playing surface.
In 2009, they finally teamed up with 'Nederlandse Kampioenschap FootGolf' and the game of Soccer Golf was born.
How Do You Play Soccer Golf?
In Soccer Golf, a size five leather ball is kicked down the length of each section or hole of the golf course with the foot, rather than struck with a club.
Typically, the game takes place on a standard golf course, though it may also be contested on a specially built course, all with up to eighteen holes to play through.
Obviously, Soccer balls can't be hit as far as golf balls and so Soccer Golf holes are made shorter than those used in standard golf. This is achieved by altering the starting position of each tee which is placed further down the course. The first shot on every hole has to be played from the designated tee and by all participants.
Players aim towards a large hole which is approximately 50 centimeters in diameter and 28 centimeters deep. Each of these holes is usually located towards one side of the golf green and not on the existing green itself.
Typically, each game consists of either nine or eighteen holes. Obstacles such as bunkers (sandpits scattered strategically at various points across the course), trees, open expanses of water like lakes and even hills – must all be crossed or avoided in order to reach the hole.
Every time an obstacle is stuck then a player typically has a shot added to their total. The furthest competitor from the hole is then the next to take their shot until all players have placed their balls in the hole.
The game is won by the player who successfully kicks the soccer ball into all holes in the fewest number of shots.
How Long Does It Take To Play Soccer Golf?
If playing the entire eighteen holes of a Soccer Golf game, it will typically take your average player around 2 – 2½ hours to successfully complete the course. This is taking into account the general speed of a small group of players who are of a good ability. In comparison, a regular game of Golf can take up to five hours to finish.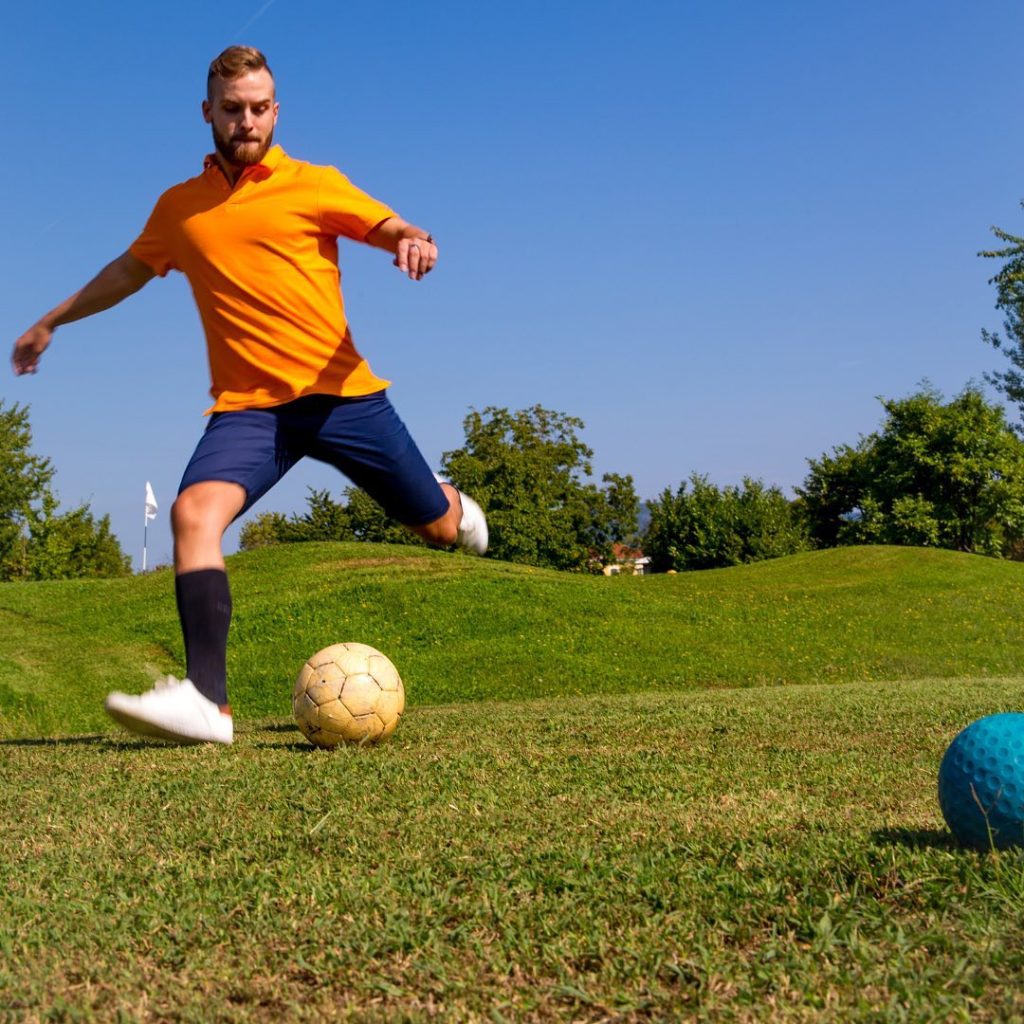 At What Age Can You Play Soccer Golf?
Soccer Golf is suitable for most ages. In general, players who are four years old or above can take part to some degree. However, the game is more tailored towards adults because they will have the required strength and athleticism to strike the ball a fair distance down the course.
What Is The Dress Code For Soccer Golf?
Within less formal settings, Soccer Golf can be played in any attire, where players choose to wear any manner of casual clothes they may already own. General sportswear is both a popular choice and acceptable on most courses.
However, if either those playing the game choose, or the course rules dictate – then more formal clothing should be worn. Typically, this should include a collared shirt and preferably non-denim trousers or shorts.
This type of dress code is required for tournament level games, is defined as a "classic golf style uniform" and follows the clothing rules of generic golf courses. The Dress Code of the Major League of FootGolf in the United States (AFGL Tour) is largely golf inspired. Additional items can be made compulsory such as knee high 'argyle' socks and a flat cap can be worn too.
What Shoes Should You Wear To Play Soccer Golf?
Ideally, players should wear 'turf' soccer shoes or golf shoes, both of which have ridged soles that provide grip on grassy surfaces. However, wearing indoor shoes like trainers or tennis shoes for example is widely accepted on most soccer golf courses. Importantly, normal soccer boots with plastic or metal studs are generally not allowed because they can easily churn up the delicate surfaces of a golf course.
Why Is Soccer Golf Popular?
Whilst Soccer Golf mainly follows the same rules as golf, it is much easier than traditional golf, this accessibility can be exciting and inclusive for most players.
Compared to regular golf, the game is faster to play and doesn't require the expensive equipment associated with the original sport. Each hole is big and so once players master the basics of Soccer Golf it becomes even more fun.
Finally, the novelty of combining two brilliant games into one sport is very appealing to a wide range of players who want to test their soccer skills by applying them to a new challenge.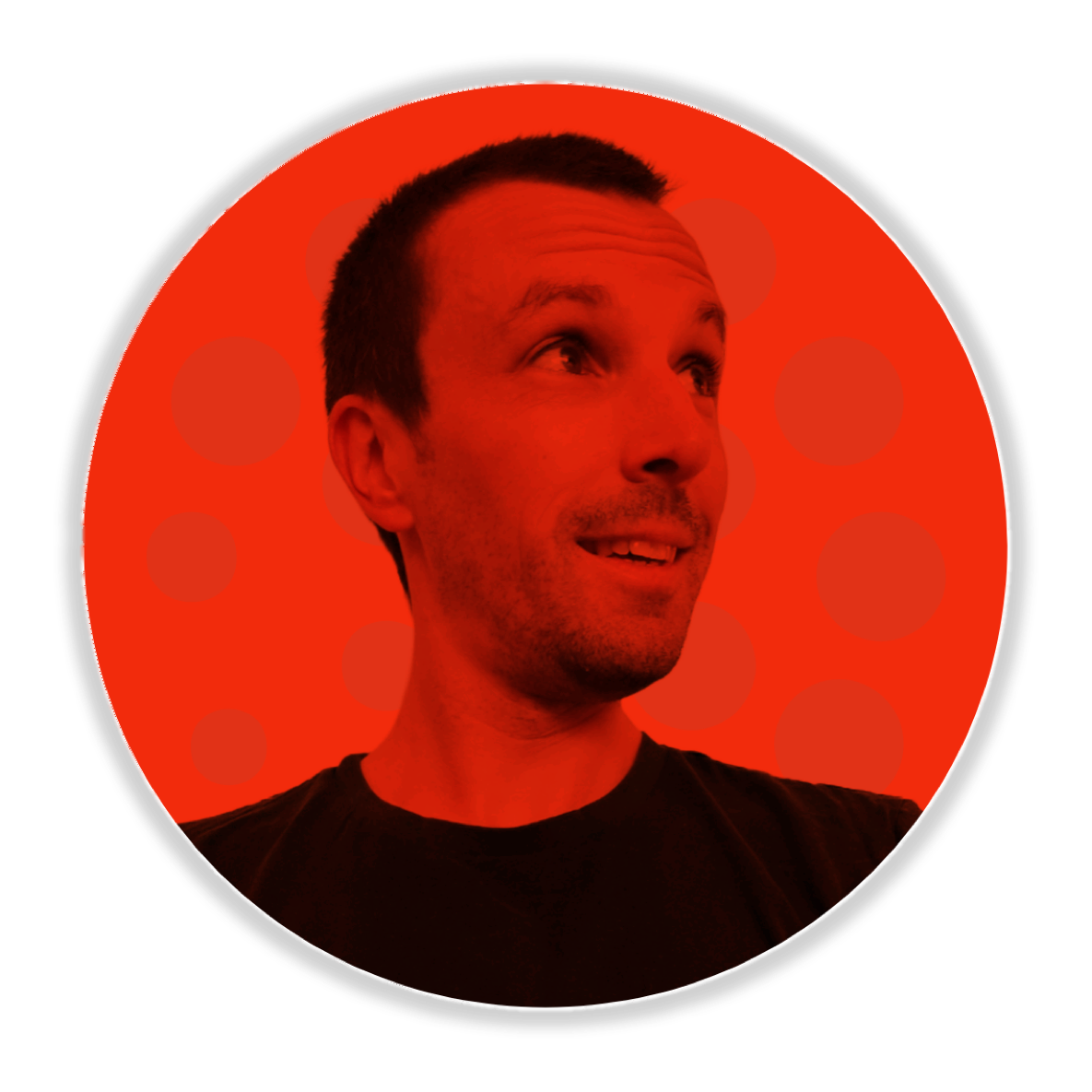 Typically it's my passion for Sports and Music that get the typing juices flowing. But ultimately I enjoy writing or blogging about any topic I can get my keyboard thrashing hands on!