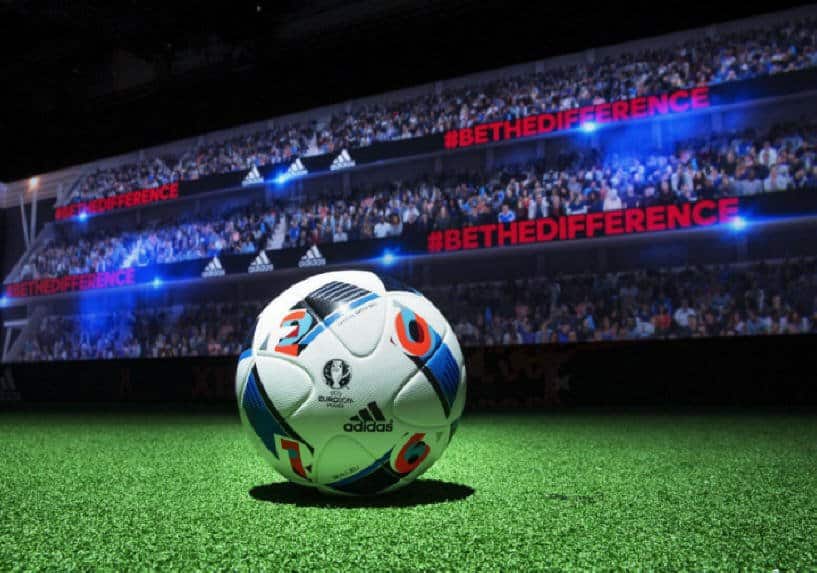 One of the most famous French footballers of all time, Zinédine Zidane has taken to his personal Instagram page https://instagram.com/zidane/ to reveal Beau Jeu, the Official Match Ball of the UEFA EURO 2016TM group stages. Beau Jeu, translated in English as "the beautiful game", is closely linked to next year's host country, France. The layering of color incorporates the blue, white and red of the French Tricolour, and integrates silver highlights in reference to the much sought after UEFA EURO trophy. The letters E – U – R – O and the figures 2 – 0 – 1 – 6 are also clearly visible through the blocking design of the ball.


The ultimate ambassador of "the beautiful game", Zinédine Zidane took center stage with Beau Jeu inside the world's first digital football stadium entitled FUTURE ARENA in Saint Denis, Paris. FUTURE ARENA is a five a side football pitch with an incredible 360° projected digital football stadium surrounding the players who dare to take the field and experience what it feels like to play in front of 50,000 screaming fans. The digital fans will respond in real time to every movement on the field of play: the goals; the skills and the heartbreak of playing in a real UEFA EURO fixture. FUTURE ARENA will be open Thursday 12th – Sunday 15th November and will give youngsters from across Europe the chance to play with the new UEFA EURO 2016TM group stage ball.


In development for over 18 months, Adidas has taken the best elements of the much-loved, and most-tested, Brazuca FIFA World Cup Official Match Ball, and added a French touch of class in time for the EUROS. Beau Jeu still incorporates Brazuca's innovative and widely praised panel shape, but improvements made to the surface structure and blocking, offer improved grip and enhanced in-flight visibility respectively. Beau Jeu will be officially handed over to all competing federations by the end of November 2015 in order to give all players a six month window to train and play with the ball ahead of the tournament kick off in June 2016. Numerous high profile players throughout Europe tested the ball and delivered feedback during the 18 month development period including Wales forward Gareth Bale who said: "I already tested Beau Jeu in training with long shots, passes and running at pace. It performed brilliantly. I can't wait for the tournament to start. "Spanish goalkeeper Iker Casillas also said: "We already got to use Beau Jeu in some intense training sessions. As a goalkeeper, it's important to have the chance to take goal-kicks, practice shot-stopping, punch, catch, and throw any new ball. Beau Jeu is going to be great at EURO 2016."Beau Jeu will be available to purchase starting Friday 13th November at Adidas own-retail outlets and specialist retailers worldwide.