The Adidas Equipment Terrestra Silverstream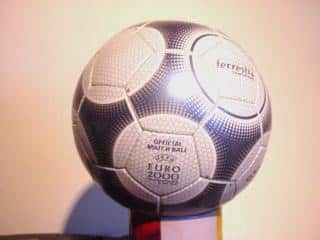 The title and design of this particularly futuristic looking ball were dedicated to the rivers of the host countries, (Belgium and Holland) to which they owe their prosperity via trading routes and transportation of goods. The locals nicknamed these waterways "silver streams" due to the way their surfaces sparkle brightly in the early morning sun.
Scientifically it was another break through ball from adidas. The outer layer was made from ergonomically crafted syntactic foam panels in long lasting PU, making it softer to the touch and easier to control. Inside the ball's casing was a layer of closely compressed micro balloons filled with gas, which distributed the impact of the strike (from the foot or head) evenly, making it more precise and giving it a calculable, consistent, and faster flight path (later used on the World Cup Fevernova and Euro Roteiro match balls).
However, its swerve characteristics were lethal at the right feet, as Luis Figo proved with his missile-like shot against England, which seemed to change direction violently when it clipped an England player's ankle. "We found to our cost that the slightest deflection seems to make the ball fly," explained the English Football Association's technical adviser, Les Reed.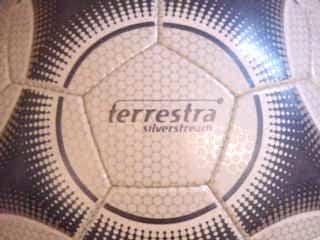 Article and pictures from Sheridan Bird, January 22, 2004
Above picture with the ball in the original box provided by Jacques Barralon