Adidas Gamarada
From Alberto Izaguirre Serrano, Guadalajara, Jalisco, Mexico: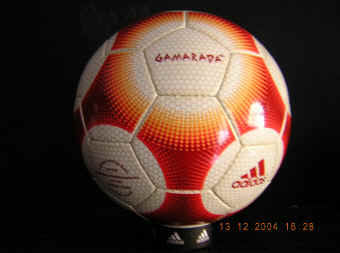 Just like the Questra Europa in 1996, the Adidas Gamarada was designed similar to the Adidas Terrestra Silverstream, Official Match ball in the Euro 2000. This was the fourth Equipment ball after Adidas Tricolore, Icon and Terrestra Silverstream. Adidas indicated the balls where softer, faster and more durable.
The Gamarada ball features synthetic foam, a special layer of highly compressible gas-filled-micro-balloons of equal size which returns energy in equal measures in all places. This gives the ball greater rebound characteristics, which means that it's faster and more accurate and predictable ball flight. The millions of individual cells of air bedded in a polyurethane matrix also make it a much more durable ball.

The design of the Equipment Gamarada reflects the colors of the Australian outback. And the name is derived from the Language of the aborigines, and means "camaraderie" or "friend".
Above picture provided by Jacques Barralon
---
Adidas Japanese J-League Version of the Gamarada
Used
in all the Japanese league matches in 2000
The following pictures are from Soccer Ball World visitor Sheridan Bird