Yokohama/Herzogenaurach, December 13th, 2007 – Today, adidas and Cairos Technologies presented the new Goal Line Technology and the adidas intelligent football tested at the FIFA Club World Cup™ in Japan from December 7 through 16, 2007. The official match ball of the tournament, adidas Teamgeist II, features a new intelligent technology designed to assist the referee's decision in determining when and if the ball has crossed the goal line, making it the most accurate football ever produced.
"The purpose of the adidas intelligent ball and Goal Line Technology is to provide greater transparency during a match and to assist the referee in making quick decisions that can impact the outcome and quality of the game" said Hans-Peter Nuernberg, Senior Development Engineer, adidas Innovation Team. "We expect the system to perform very well during the FIFA Club World Cup™ in Japan and we will continue to refine the system so that it is 100% accurate."
The intelligent technology implemented in the Teamgeist II uses a magnetic field to provide real-time feedback to a central computer, which tracks the location of the ball on the field and sends the data directly to the referee. By using a magnetic field and more stabilized and robust components within the ball, the new system is more precise and is not influenced by in-game factors, adverse weather or nearby technical systems.
"With the complexities and precision needed for Goal Line Technology, it is imperative that the system is tested in a variety of competitive in-game situations," said Christian Holzer, COO of Cairos technologies. "The opportunity to test the new technology during such a competitive tournament will supply us with the valuable feedback needed in order to continue refining the system."
Since 2003, adidas and Cairos in cooperation with FIFA, have developed the Goal Line Technology, which was first publicly tested in 2005 during the U-17 FIFA World Cup™ in Peru. The first system used radio transmissions to correspond with a central computer and a microchip suspended in the ball to determine its location on the field. The new Goal Line Technology and adidas intelligent ball have been redeveloped since 2005 to address the critical situations in which better accuracy is needed.
Following the testing during the FIFA Club World Cup™ in Japan, the results will be evaluated and next steps will be determined by Cairos technologies and adidas as to when the system will be ready to test again publicly. The new system currently meets all International Football Association Board (IFAB) requirements and the ball has been approved by FIFA for competitive international play. adidas' experience in football manufacturing is unsurpassed anywhere in the world and leads the industry in the production of the most innovative footballs since 1963. The Goal Line technology is a testament to the ongoing commitment adidas has to innovation and the development of new technologies in football and across all sports categories.
---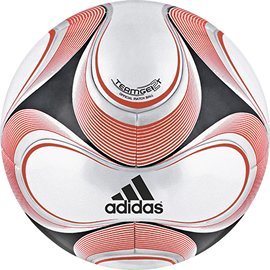 Teamgeist 2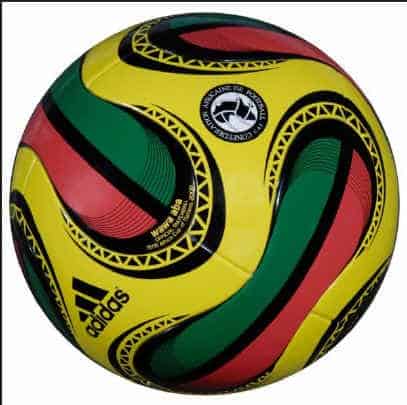 Wawa Aba – African Cup 2008
Teamgeist 2 AFA
Teamgeist 2 Magnus Moenia Beijing Olympics 2008 –